The ULTIMATE GOVERNMENT INSIDER is revealing his…
CURES FROM BEHIND THE CURTAIN

  
The ultimate insider is ready to unleash the CURES, COVER-UPS and
FUTURE OF MODERN MEDICINE—and it all starts with your
8-Volume FREE LIBRARY OF CONFIDENTIAL CURES
Dear Reader,
Dr. Marc Micozzi is fighting for clean, clear science and the truth. Without it—corruption breeds, cures are buried and lives are lost.
The frightening truth is…Science is IGNORED every day—and YOU pay the price!
Dr. Marc Micozzi walked away from it all—and now he wants to share everything he's seen—the cures, the cover-ups and what he believes will be the future of  modern medicine.
You have an INSIDER to get you behind the curtain.
In his 40-year career, physician, medical anthropologist and epidemiologist Marc S. Micozzi M.D., Ph.D., has accomplished something no other physician has been able to achieve.
He thrust the STAGGERING PROOF of complementary alternative therapies in the faces of mainstream medicine AND DEMANDED ANSWERS.  In fact, some of the world's most recognized natural research, on lycopene, lutein, brassica vegetables, and excess iron, would not even exist without his courage to stand up for true science.
In his tenure with the NIH, and beyond, he was relentless in following clear science no matter what obstacles stood in his way.
Because that's how mainstream medicine operates today. Medical researchers are scratching Big Pharma's back and the NIH and FDA make for perfect bed fellows.
All the while—critical science is thrown to the wolves and CURES are kept under lock and key.
But now you can learn about the secrets that are whispered inside the walls of the NIH and get stuck there for far too long.
You will learn about better answers for cancer, Alzheimer's, heart disease and other diseases you're told are still "years away from becoming reality."
All from the man who "fathered" our approach to complementary and alternative medicine in the modern world. A man who has worked side by side with some of the greatest medical minds of our time… 
You will see the future of medicine and learn how you can have it today—
ALL FROM THE MAN WHO HAS SEEN IT ALL 
With your subscription to Dr. Micozzi's Insiders' Cures and your FREE 8-Volume Insiders' Library of Confidential Cures you will discover secrets like…
The Long-Ignored CANCER ANSWER

with a 71% rate of positive results

(and the most shameful medical failure in U.S. history that kept this better cancer answer out of your hands)
A "Back from the Brink" African Miracle for diabetes, cancer and even AIDS. This secret could change modern medicine and literally turn one of the most impoverished areas on the planet into the next medical metropolis.
The "Alzheimer's Announcement" no one will pay attention to…not the mainstream media and not even the "natural know-it-alls" even though it's as natural as vitamin C!
Every month in Dr. Micozzi's Insiders' Cures, he will share shocking stories from his vast experience inside the walls of some of the world's most powerful medical establishments. You'll see the cures, the cover-ups and exactly how you can make sense of the latest modern medicine.
This is a man who has spent over 30 years letting ONE THING guide him as he authored over two dozen books and hundreds of research papers and articles, worked personally with famed Nobel laureates and Surgeons General, and conducted game-changing research on lycopene, lutein, iron, and brassica vegetables…
Clear science.  
And NOW he's willing to tell it all.
Every detail is revealed in your FREE Insiders' Library of Confidential Cures
Dozens of cures are waiting for you in your FREE Insiders' Library of Confidential Cures. This exclusive library is your very first glimpse of a health world that has been hidden to you, either purposefully or simply because of a lack of knowledge.
To claim your FREE Insiders' Library of Confidential Cures, just click on the order button below. This will take you to a special "Gift Certificate" which will save you $25 off the publisher's price on your 12 month risk-free subscription to Dr. Micozzi's Insiders' Cures newsletter and you'll get the complete Insiders' Library of Confidential Cures for FREE…
Once you are a trusted Insider—there is so much more that awaits you.
When you step inside—you'll receive regular monthly issues of Dr. Micozzi's Insiders' Cures newsletter. These monthly issues feature.
Breaking news on the very latest developments in complementary and alternative health
Personal stories, experiences and knowledge from the Ultimate Insider himself
 Better answers to today's most threatening illnesses like diabetes, heart disease, depression, fibromyalgia and even cancer
Dr. Micozzi will bring you original, up-to-this-minute discoveries and research from the medical inside as he hears it.    
From the very first issue—
you will know what it means to be an Insider
But that's not all you'll receive. Introducing…Dr. Micozzi's Daily Dispatch.
Every day you'll receive a private email with new discoveries, special on-going exposés and the truth behind the most current headlines. This is personal correspondence from the Ultimate Insider.
This gives you access to literally hundreds of cures each and every year as well as a unique perspective into a health world very few people ever get to see.
This is the very first time Dr. Micozzi has broken his silence and as such—you are among the first to hear his side of medicine.
If you've ever said, "Where are the cures they've promised me?" You need to know, they exist and are finally ready to be exposed!
You can experience the FUTURE OF MEDICINE TODAY 
When you accept this special invitation—you gain FULL ACCESS to a world of medicine they never want you to see—and it will only cost you pennies a day.
All you have to do is click the order button below and you'll receive the complete FREE Insiders' Library of Confidential Cures with your subscription to Dr. Micozzi's monthly Insiders Cures. Plus, you'll also receive Dr. Micozzi's Daily Dispatch email updates. 
With Dr. Micozzi's Insiders' Cures, you'll enjoy invaluable access to PROVEN CURES that are still years and decades away under the current medical system.  All for just pennies a day.
And even better—
There is NO RISK to you
We are taking all of the risk for you. You are under no obligation to remain an Insider.  If at any point you're not satisfied with your inside access—you can simply let us know and we will send you a prompt refund for all of the remaining issues on your subscription. You keep the FREE Insiders' Library of Confidential Cures as well as the issues you have already received.
Your insider pass awaits you. Click on the order button below now. Please don't let this opportunity pass you by—this invitation will not be available forever.
This is your personal correspondence from the doctor who made his name on the inside. Dr. Marc S. Micozzi, M.D., Ph.D., the man who helped spearhead some of modern medicine's greatest breakthroughs in natural health…the man who has worked side-by-side with some of today's greatest medical minds…
The man who has been called, "The Father of Complementary and Alternative Medicine" can guide you past the cover-ups and onto the cures that are waiting on the inside of modern medicine. 
Today is your chance to peek behind the curtain of modern medicine—
and discover the cures you've been waiting for
Don't let this chance pass you by. Dr. Micozzi has been letting clear science lead him to new, PROVEN answers for health—and this is your chance to do the same. Click on the "order now" button below
Here's to a healthy life "from the inside,"
Kattherine Wheeler
Publisher
P.S. Be sure to check out all the FREE BONUS reports and additional subscriber benefits below! And of course, your subscription is completely guaranteed. If at any point you'd like to unsubscribe, simply give us a call and we will refund the remaining balance of your subscription fee--anytime, no questions asked. And the FREE BONUS reports are yours to keep. 

Your FREE INSIDERS' LIBRARY OF CONFIDENTIAL CURES—
EIGHT-VOLUMES of cover-ups, CURES
and the future of modern medicine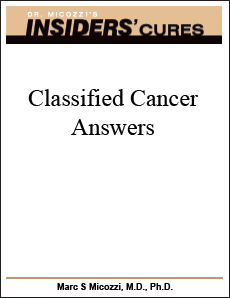 VOLUME 1: Classified Cancer Answers
The results of decades' worth of research from a foot soldier who fought the "war on cancer" in the field—and in the laboratory. Inside you'll learn everything you need to know to keep you and your family cancer-free, using simple steps you can take yourself.
Discover the SECRET WORLD WAR II "arms race for the cure." German and British forces weren't only engaged in a heated battle over European territory—both were fighting to be the first to claim "cancer is defeated!" You'll never guess the medical marvels this heated race turned up.
Revealed: America's MOST SHAMEFUL CANCER FAILURE—While the National Cancer Institute refused to budge from beta-carotene research—another cancer answer sat on the shelf—not anymore.
The best cancer treatments you've never heard of—If you think all of the most well-studied, proven cancer treatments get fast-tracked for your health—it's not the case. Get the details on over 15 proven cancer answers that are available to you right this minute.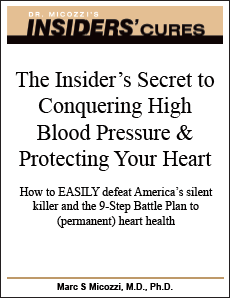 VOLUME 2: The Insider's Secret to Conquering High Blood Pressure and Protecting Your Heart:
How to EASILY defeat America's Silent Killer and the 9-Step Battle Plan to Permanently Protecting Heart Health
There's an epidemic rising within the U.S. and it affects heart health (and much more) in every citizen—young and old. Heart disease is on the rise—and while the mainstream drones center their sights on cholesterol…there is a much deadlier problem that too often goes unstudied, misunderstood and sometimes all-out ignored. But Dr. Micozzi never gave up the fight…
Shocking Results—not all is as it seems with this heart health crisis…Discover the special relationship between stress and high blood pressure from the man who put 2-and-2 together himself.
The only prescription Dr. Micozzi will ALWAYS recommend—It might sound strange to hear the true pioneer in Complementary & Alternative Medicine prescribe any behind-the-counter pill, but there are some that could save your life. There is however one special rule to follow…
A heart health BATTLE PLAN—What you can do now! Insider tactics and solutions to conquer this epidemic before you become a victim.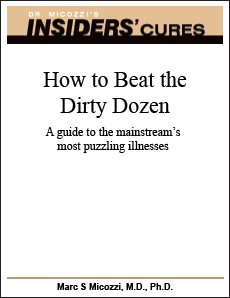 VOLUME 3: How to Beat the "Dirty Dozen:" A Guide to the mainstream's most puzzling illnesses
There are 12 chronic illnesses that have been confounding mainstream medicine to the point of giving up—but Dr. Micozzi never did. Inside, you'll discover the surprising connections between some of today's most prevalent diseases…
Lost in the wilderness—Discover the MAIN REASON why mainstream medicine will never solve chronic illnesses.
Listen to your GUT—Really! The tell-tale signs that YOU might be suffering from one of the "Dirty Dozen" can come from the most ordinary places. You'll find out each one and what you can do about it.
The oft-missed FIRST STEP to beating chronic conditions—Depression, chronic fatigue syndrome, fibromyalgia and more—before you can ever hope to rid yourself of these imprisoning diseases, you must take this critical first step to wellness.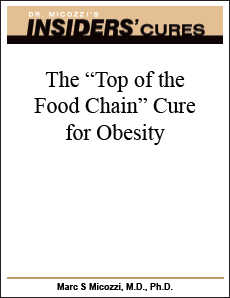 VOLUME 4: The "Top-of-the-Food-Chain" Cure for Obesity
Fat Cats, Big as a Whale…and the Bear's Secret to staying slim—Cut through the fads and look to the original blueprint to staying slim. Nature is teaching us the perfect way to eat and no animal has it down better than the great, wild, grizzly bear…
The next "Health War" we're destined to lose—With the white flag waving on the "war on cancer" America has set its sights on the battle of the bulge. But once again—they're doomed before they even begin. Learn the critical errors both diet gurus and respected physicians are making around the country.
Eat all you want! The most effective diet in the world is also the easiest. Learn all the details of this effective weight-loss diet and be amazed at how easy it is compared to today's "greatest" belly busters.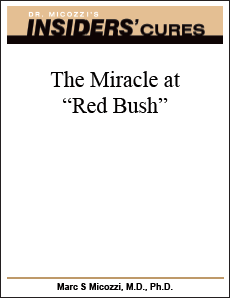 VOLUME 5: The Miracle at "Red Bush"
There is a $60 Billion industry that is syphoning money out of America's pockets under false claims of "thirst-quenching hydration." Experience the difference in your vim and vigor when you finally buck the system and hydrate your body on a cellular level.
Glug, Glug, GLUG and still dehydrated? If you think "8 glasses a day" is warding off dehydration—it's not the case. Learn the basics of what Dr. Micozzi calls, "dead water."
The "Red Bush Miracle" is here! Discover the African secret to full body hydration and the rush of vitality that comes afterwards. One of the most powerful antioxidants and phytonutrients in the world also holds the key to pure cellular hydration.
Put it to the test—Studies from the field show that cellular hydration is real. See some of America's toughest men put it to the test and the remarkable results (and trophies) they walked away with…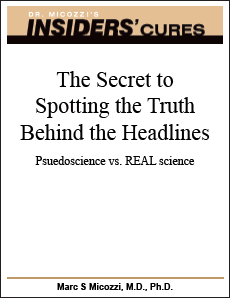 VOLUME 6: The Secret to Spotting the Truth Behind the Headlines: Psuedoscience vs. REAL science
In today's world, headlines are flying fast and free. It may seem like the mainstream's cure for cancer is right around the corner—but the Ultimate Insider will show you the truth is in the fine print…
Perhaps today's BIGGEST HEALTH CONCERN—Pseudoscience vs. REAL science—Science is about cause and effect, not guess work. Discover how to determine whether your "most trusted sources" are real or REAL BULL.
The truth is in the details—The truth is…most doctors can't cut through all of the statistical gibberish being reported in today's "prominent" health journals. See how most doctors get their information from the drug companies and never look at the science. But you can learn the easy tactics to pull out the truth in today's most eye-catching headline.
Follow the money! You have to find out who is behind today's boldest studies to really learn if what you're reading is on the up-and-up and just pushing your health lower and lower…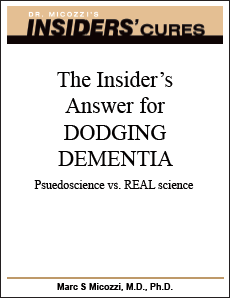 BONUS VOLUME #7: The Insider's Answer for DODGING DEMENTIA
Mainstream medicine isn't the only establishment that drops the ball on your health. For the past 5 years, the natural "gurus" have completely missed the point on a natural wonder that can help you dodge dementia. Our Insider has seen the amazing science for himself and won't let the TRUE POTENTIAL behind this natural powerhouse slip by again…
The Alzheimer's Answer no one will pay attention to—Imagine a substance seemingly tailor-made to battle one of the world's most terrifying diseases. It's real—and it possesses the 3 keys any substance must have to STOP Alzheimer's disease…
Dodge DEMENTIA before it starts—Alzheimer's is just one form of devastating dementia—but this one MIND MIRACLE has the ability to boost brain power on all fronts for greater cognitive protection.
And that's just the tip of it all…Brain health might be the obvious problem no one is paying attention to, but that doesn't mean it's the only thing this medical marvel has going for it. Diabetes…heart health…inflammation and MORE can all be addressed with this one ignored secret!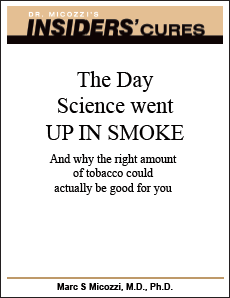 BONUS VOLUME #8: The Day Science went UP IN SMOKE:
And why the right amount of tobacco could
actually be good for you
…
Get the Insider's personal account of our nation's #1 threat to your health—bad science. See, first-hand, what the "science bureaucrats" can do when they don't get the results they want. And just how easily an agenda can turn into "medical gospel."
The SHOCKING smoking results you didn't hear about—We've all heard that smoking can lead to lung cancer. And it's true…but NIH-funded research also revealed that smoking in certain ways, or only up to certain amounts had virtually NO EFFECT on one's health...
All of the DIRTY DETAILS—What exactly happened on the "day the science was ignored?" We've barely scratched the filmy surface—but you can get all of the insider details to really see how medical science is being run in this country.
There is a difference! Modern medical science has lumped all tobacco products into one bad for your health ash tray—but the truth is—the results vary wildly depending on what kind of product is being used. See the details for yourself inside!