Overcoming Acute and Chronic Pain

Find the holistic treatment that will work best for you based on your emotional type and specific pain condition
Provides an easy questionnaire to determine your emotional type and an interactive self-assessment for finding the right pain treatment for your condition
Explores mind-body treatments for many common pain conditions, including arthritis, back pain, fibromyalgia, irritable bowel, migraines, carpal tunnel, and PTSD
Reviews the scientific evidence in support of acupuncture, biofeedback, hypnosis, massage, chiropractic, yoga, herbs, and essential oils
Throughout history many healing traditions have focused on analgesia–the alleviation of pain–an area in which modern medicine provides few options beyond narcotics, steroids, and surgery. For those seeking drug- and surgery-free alternatives or complements to conventional pain management, the choices can be overwhelming. How do you know which method will work for you?
This guide to safe and effective natural therapies for acute and chronic pain explains how your emotional boundary style–how you react to emotional, social, environmental, and physical stresses–affects which complementary treatments will work best for you. Providing an easy questionnaire to determine your emotional type and an interactive self-assessment for finding the right pain treatment for your condition, they explore the effectiveness of mind-body treatments for each emotional type and for many common pain disorders, including arthritis, back pain, fibromyalgia, irritable bowel, ulcer, migraine headaches, carpal tunnel, anxiety, PTSD, and other chronic pain conditions. It reviews the available research and scientific evidence in support of each therapy, suggesting only well-established, safe, and clinically proven alternative treatments, such as acupuncture, biofeedback, hypnosis, massage, chiropractic, yoga, herbs, and essential oils.
Approaching pain holistically should be understood as a dynamic condition–an interaction between mind and body as well as between patient and therapy–and how your emotional type is key to long-lasting and successful results.

---
Your Emotional Type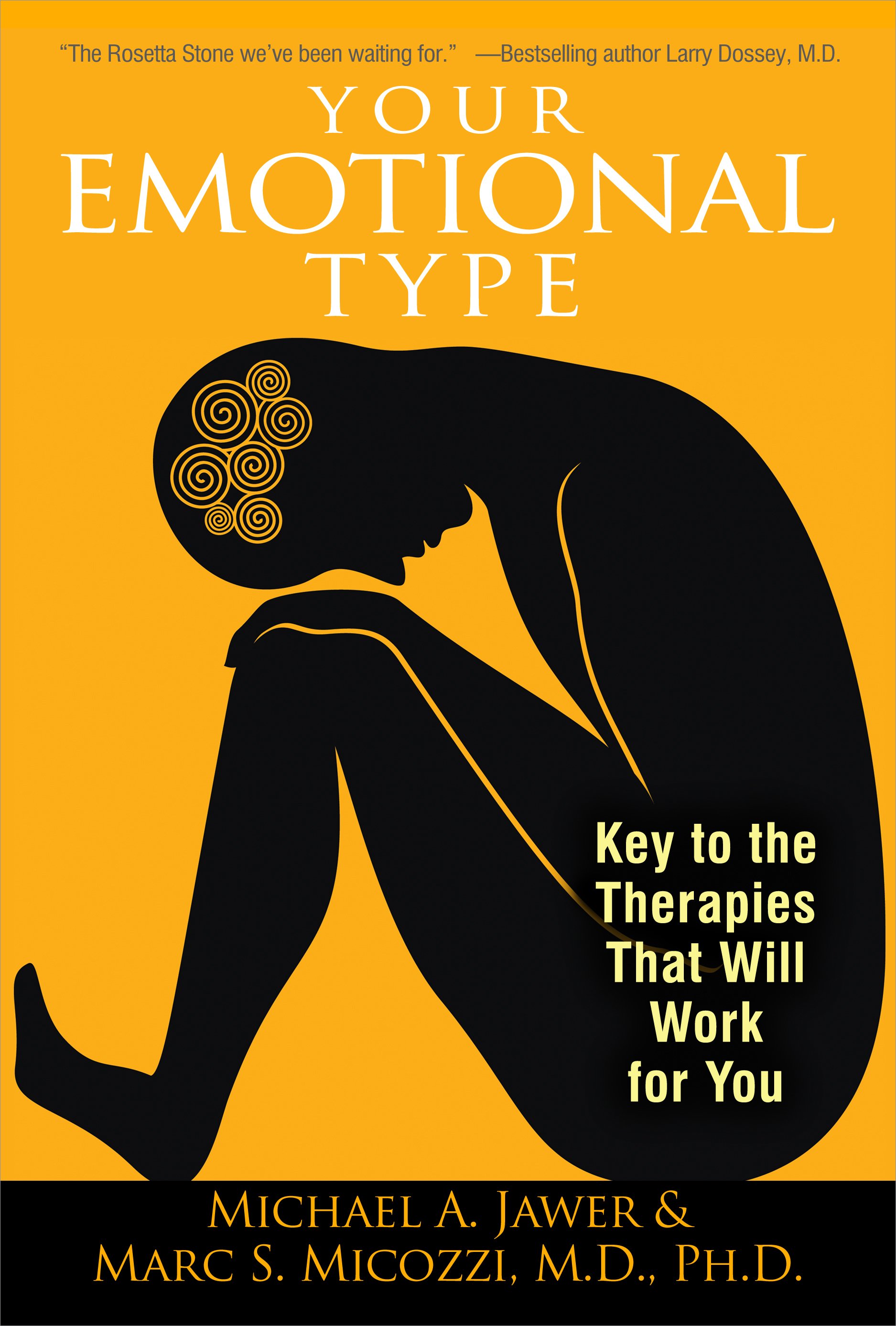 Your emotional type as the means to finding the right treatment for your chronic illness or pain
Provides an easy questionnaire to find your emotional type
Identifies the connections between emotional type and 12 common chronic ailments: asthma, allergies, chronic fatigue, depression, fibromyalgia, hypertension, irritable bowel, migraines, PTSD, psoriasis, rheumatoid arthritis, and ulcers
Explains which of 7 mind/body healing therapies works best for each emotional type
Different people process their feelings in different ways–your emotional style is a fundamental aspect of who you are. It affects more than just your outlook on life; it can affect your well-being as well. Many chronic ailments are not the result of germs or genes but are rooted in our emotional biology. The link between emotional type and health explains why modern medicine–which views treatment as "one size fits all"–often fails to successfully treat chronic pain and illness.
Examining the interplay of emotions, chronic illness and pain, and treatment success, Michael Jawer and Dr. Marc Micozzi reveal how chronic conditions are intrinsically linked to certain emotional types and how these ailments are best treated by choosing a healing therapy in line with your type. Explaining the emotional ties behind the 12 most common chronic illnesses–asthma, allergies, chronic fatigue, depression, fibromyalgia, hypertension, irritable bowel syndrome, migraines, post-traumatic stress disorder, psoriasis, rheumatoid arthritis, and ulcers–the authors provide an easy assessment survey that allows you to identify your emotional type as well as the ailments you are susceptible to. Extending this connection between mind and body, they assess 7 alternative healing therapies–acupuncture, hypnosis, biofeedback, meditation, yoga, guided imagery, and relaxation techniques–and indicate which methods work best for each emotional type. Empowering you as a patient to seek out the therapies that will work best for you, this book offers a welcome path to effective pain relief and sustainable health.

---
New World Mindfulness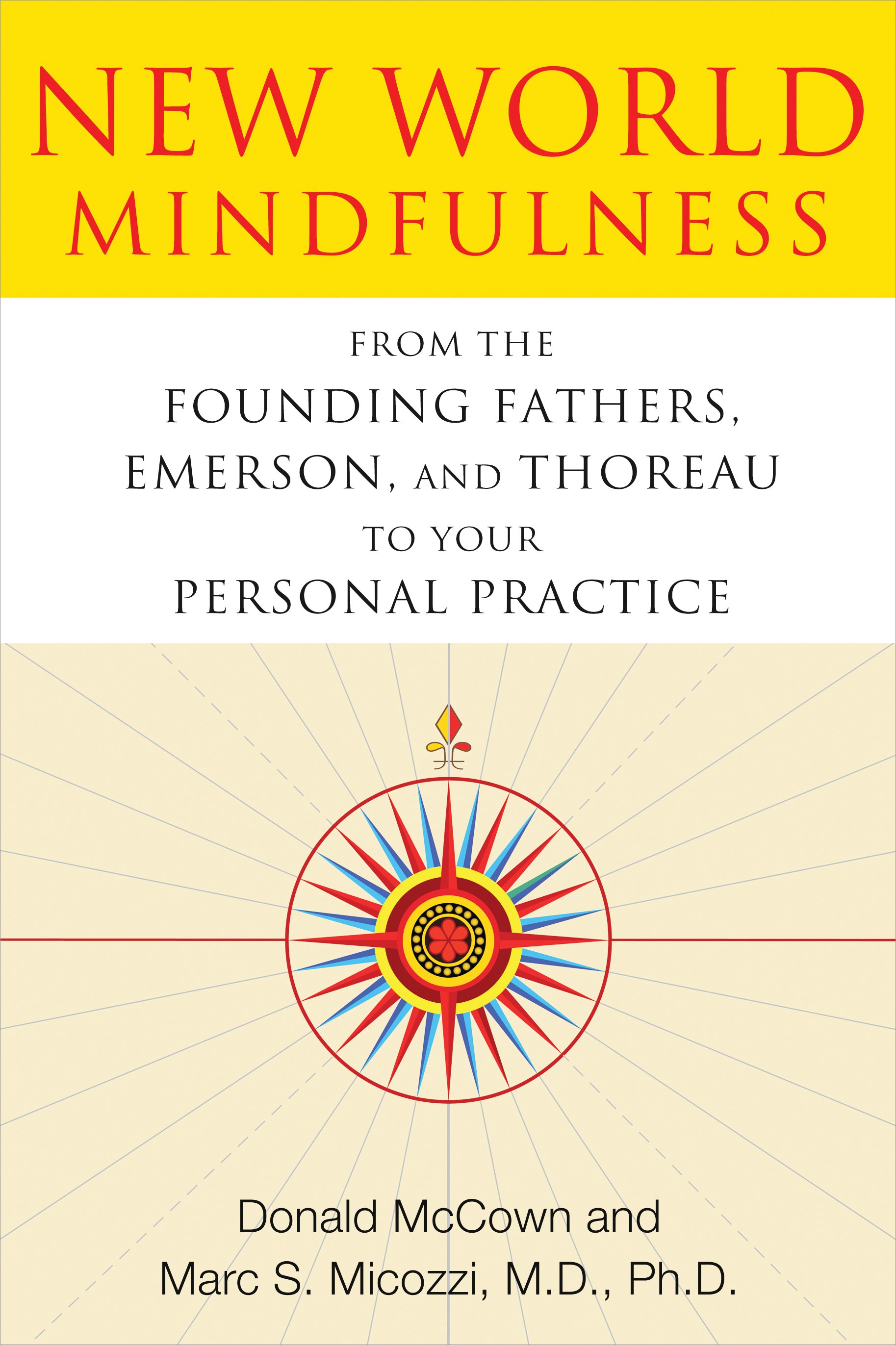 Techniques to fit mindfulness into the demands and pace of real life
Reveals the medical benefits of mindfulness for stress, anxiety, and depression as well as for coping with serious illness and major life changes
Offers a wide range of techniques, including a "high-speed" form of contemplation, from the authors' extensive experience working with this practice as a healing modality
We are all busy–and we all long for quiet and connection. Yet despite the growing body of evidence supporting the benefits of mindfulness, the hectic pace of modern life leaves little time to devote to meditation, relaxation, and contemplation. In New World Mindfulness, mindfulness teacher and therapist Dr. Donald McCown and physician Dr. Marc Micozzi provide techniques to successfully integrate mindfulness into real life so we can rise above the stress of work, family, and community that can easily pull us out of the moment and into states of tension, anxiety, or depression.
Dispelling the two big myths of mindfulness–that it is an "exotic" activity and that it requires you to "slow down and find more time"–the authors present a history of mindfulness in the West, from the American Founding Fathers, Thoreau, and Emerson up to present-day leaders in the field such as Jon Kabat-Zinn, and reveal a high-speed form of contemplation ideal for even the busiest of lives. Exploring the physiological impacts of mindfulness practices for stress, anxiety, depression, and coping with serious illnesses and major life changes, the authors show that mindfulness is not about being silent and alone–it can even be practiced as a family or community. Not prescribing change but rather working from within, this book connects Western no-nonsense, get-it-done pragmatism with the yearning for beauty and balance that makes a full life truly fulfilled.

---
The Spiritual Anatomy of Emotion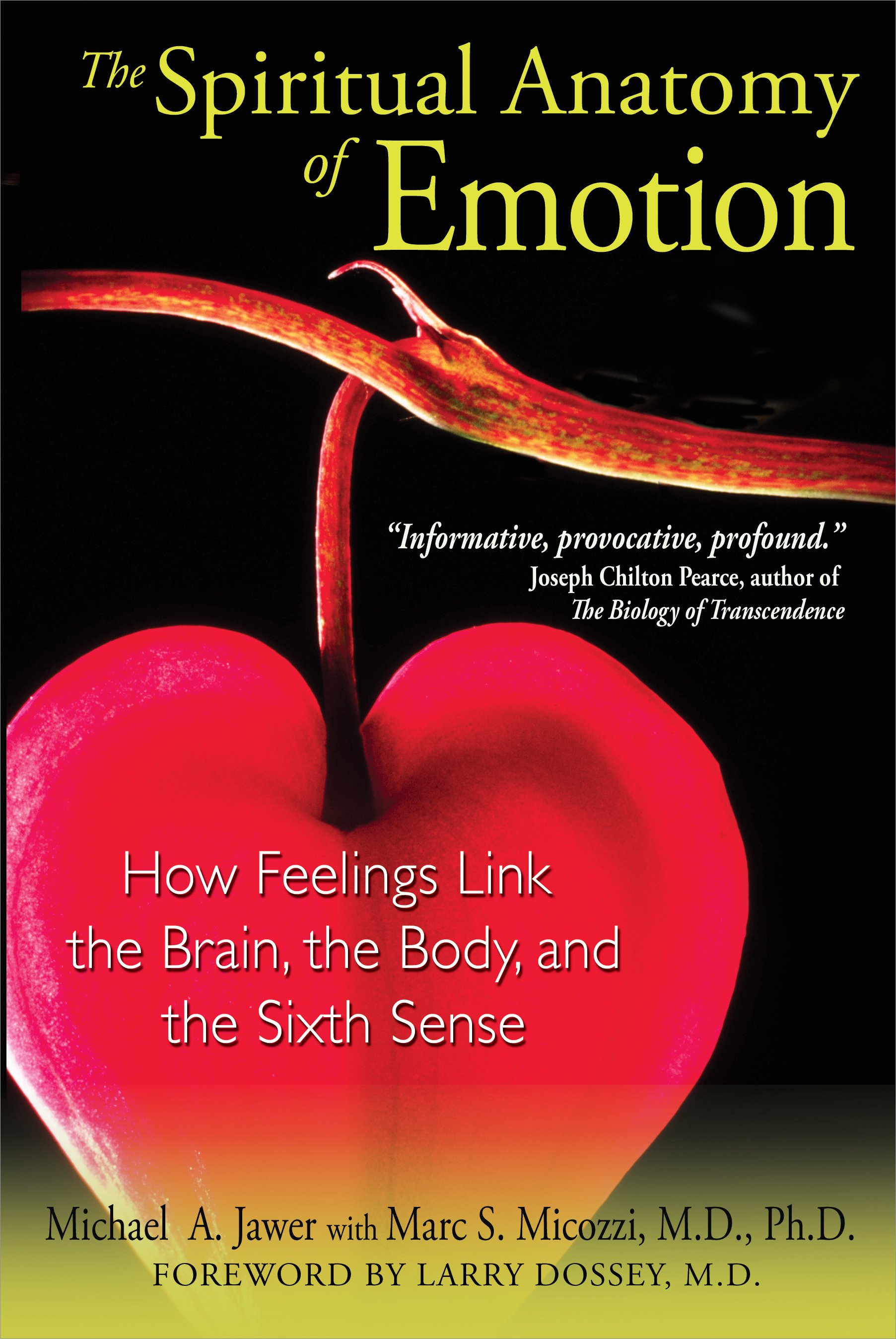 A cutting-edge examination of feelings, not thoughts, as the gateway to understanding consciousness
• Contends that emotion is the greatest influence on personality development
• Offers a new perspective on immunity, stress, and psychosomatic conditions
• Explains how emotion is key to understanding out-of-body experience, apparitions, and other anomalous perceptions
Contemporary science holds that the brain rules the body and generates all our feelings and perceptions. Michael Jawer and Dr. Marc Micozzi disagree. They contend that it is our feelings that underlie our conscious selves and determine what we think and how we conduct our lives.
The less consciousness we have of our emotional being, the more physical disturbances we are likely to have–from ailments such as migraines, fibromyalgia, chronic fatigue, and post-traumatic stress to anomalous perceptions such as apparitions and involuntary out-of-body experiences. Using the latest scientific research on immunity, sensation, stress, cognition, and emotional expression, the authors demonstrate that the way we process our feelings provides a key to who is most likely to experience these phenomena and why. They explain that emotion is a portal into the world of extraordinary perception, and they provide the studies that validate the science behind telepathic dreams, poltergeists, and ESP. The Spiritual Anatomy of Emotion challenges the prevailing belief that the brain must necessarily rule the body. Far from being by-products of neurochemistry, the authors show that emotions are the key vehicle by which we can understand ourselves and our interactions with the world around us as well as our most intriguing–and perennially baffling–experiences.

---
Avicenna's Medicine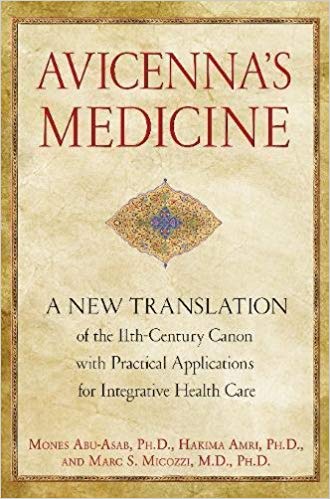 Presents the actual words of Avicenna in a new and unique translation directly from the original Arabic, removing the inaccuracies and errors of most translators
Explains current medical interpretations and ways to apply Avicenna's concepts today, particularly for individualized medicine
Reveals how Avicenna's understanding of the "humors" corresponds directly with the biomedical classes known today as proteins, lipids, and organic acids
A millennium after his life, Avicenna remains one of the most highly regarded physicians of all time. His Canon of Medicine, also known as the Qanun, is one of the most famous and influential books in the history of medicine, forming the basis for our modern understanding of human health and disease. It focused not simply on the treatment of symptoms, but on finding the cause of illness through humoral diagnosis—a method still used in traditional Unani and Ayurvedic medicines in India.
Originally written in Arabic, Avicenna's Canon was long ago translated into Latin, Persian, and Urdu, yet many of the inaccuracies from those first translations linger in current English translations. Translated directly from the original Arabic, this volume includes detailed commentary to explain current biomedical interpretations of Avicenna's theories and ways to apply his treatments today, particularly for individualized medicine. It shows how Avicenna's understanding of the humors corresponds directly with the biomedical definition of proteins, lipids, and organic acids: the nutrient building blocks of our blood and body. With this new translation of the first volume of his monumental work, Avicenna's Canon becomes just as relevant today as it was 1,000 years ago.

---
Fundamentals of Complementary, Alternative, and Integrative Medicine, 6th Edition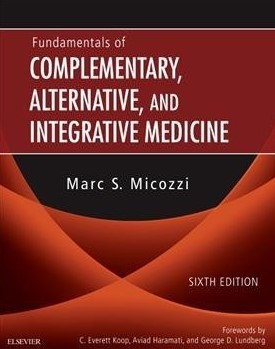 Health professionals have been turning to Micozzi's comprehensive CAM text for the past 25 years. Filled with the most up-to-date information on scientific theory and research and updated contributions from world experts, Fundamentals of Complementary, Alternative, and Integrative Medicine, 6th Edition gives you a solid foundation of the therapies and evidence-based clinical applications for CAM – and expands your global perspective with new and updated chapters on healing systems from around the world. Dive into interesting discussions on massage, manual therapies and bodywork, yoga, chiropractic, osteopathy, herbal medicine, aromatherapy and essential oils therapy, "nature cure," naturopathy and naturopathic medicine, and nutrition and hydration. With its wide range of topics, this 20th anniversary edition is your ideal CAM reference!

---
Celestial Healing
Energy, Mind and Spirit in Traditional Medicines of China, and East and Southeast Asia
Marc S. Micozzi, MD, PhD with Kevin Ergil, MA, MS, LAc (Chinese Medicine and Acupuncture, Qi, and Qi Gong), Laurel S. Gabler, BA, MSc (Thai Medicine) and Kerry Palanjian, BA, MBA (Shiatsu)
Providing a panoramic overview of the medical traditions of China and East and Southeast Asia, Dr. Marc Micozzi offers compelling insights into the influence of the expression of vital energy (qi) in these traditions. He discusses the efficacy of these healing practices, as well as their influences in the West, and potential applications today.

---
Vital Healing
Energy, Mind and Spirit in Traditional Medicines of India, Tibet and the Middle East – Middle Asia
Marc S. Micozzi, MD, PhD, with Donald McCown, PhD, and Mones Abu-Asab, PhD (Unani), Hakima Amri, PhD (Unani), Kevin Ergil, MA, MS, LAc (Tibet), Howard Hall, PsyD, PhD (Sufi), Hari Sharma, MD (Maharishi Ayurveda), Kenneth G. Zysk, DPhil, PhD (Ayurveda & Siddha) unfold the compelling idea that vital energy, "prana" in the Indian practice of Ayurveda, is the unifying concept that underpins all of the traditional medicines of Middle Asia. He also draws parallels to mainstream Western medicine, and demonstrates how these therapies fit within the context of their own cultures and ours.

---
Wan's Clinical Application of Chinese Medicine
Scientific Practice of Diagnosis, Treatment and Therapeutic Monitoring
Giorgio Repeti, LAc, with Marc S. Micozzi, MD, PhD
The ancient practices of Chinese medicine are typically misconstrued by modern Traditional Chinese Medicine in westernized texts. This book expands our knowledge of the full potential of Chinese medical practices using an approach characterized by Grandmaster Wan as the 3E approach (easy, economical and efficient).

---
Consciousness and Healing, 1st Edition
This collection of essays on integral medicine, consciousness, and healing integrates mainstream medical knowledge with recent developments in the emerging areas of frontier sciences and insights from alternative healing perspectives. It promotes a model of healing in which personal relationships, emotions, meaning, and belief systems are viewed as fundamental points of connection between body, mind, spirit, society, and nature. Integral medicine embraces the recognition that human beings possess emotional, spiritual, and relational dimensions that are essential in the diagnosis and treatment of disease and the cultivation of wellness.
Readers learn from leaders in the emerging fields of integral medicine and consciousness research, from the most well-known (Deepak Chopra), to the frontline policy makers (James Gordon-one of the heads of the White House Commission on Conventional and Complementary and Alternative Medicine). Readers also gain insights from health professionals who have experienced healing within themselves and witnessed remarkable healing in their patients. We hear from other medical professionals (through the essays and the interviews on the accompanying DVD) who approach medicine from an array of cultural perspectives, and can attest to this multicultural, interdisciplinary, and participatory healing system in action. Consciousness and Healing contains 47 essays in the book plus 9 bonus essays read aloud on the DVD. Essays are short and in language suited to an audience of both lay and professional readers, with extensive references on the DVD to original scientific studies for those interested in further exploration.

---
The Science of Planetary Signatures in Medicine
Jennifer T. Gehl, MHS, with Marc S. Micozzi, M.D., Ph. D, provide a comprehensive exploration of celestial influences said to underlie health and healing. This book examines how ancient and modern traditions of healing interconnect through the doctrines of signatures. You'll learn how one's celestial nature—the particular arrangement of the cosmos at the moment of birth—can manifest implications for personal health. And how each sign of the zodiac corresponds to parts of the body, the chakras, and specific plants, herbs, colors, and emotions.