Mainstream medicine pours most of its attention and funding into research and treatment of "fatal diseases" like cancer and heart disease.
But it woefully neglects non-fatal, chronic pain conditions like arthritis. And this neglect has directly contributed to the opioid epidemic—which is a tragic cause of death.
What's worse, in the midst of this opioid epidemic, the coronavirus panic made it much more difficult for men and women with chronic arthritis pain to receive safe and effective non-drug treatments—such as acupuncture, bodywork, massage, mindfulness meditation, and yoga.
Fortunately, new research suggests you can relieve arthritis pain by harnessing the power of a bright-red berry you may find on your late-fall, early-winter walks in the woods…
Don't prune back your roses
It is said that the rose's rarest essence lives on the thorn. But in my view, the real wonders are the rose's "hips", or berries, which form just below the petals. As the fruit of the rose plant, they also contain the seeds.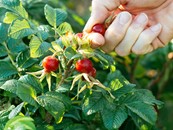 Image source: Healthline.com
For centuries, natural healers have used rose hips to help with skin infections, toothaches, kidney problems, diarrhea, and epilepsy.
Fresh rose hips contain high levels of vitamin C. In fact, rose hips are the single-most potent sources of vitamin C occurring in Nature. And centuries ago, when people didn't have access to "greens" during the winter months, they got their vitamin C by gathering rose hips in the wild and adding them to foods and beverages or preserving them as jellies and jams.
Rose hips also contain other powerful antioxidants, including anthocyanidins, carotenoids, flavonoids, phenols, and terpenoids. These antioxidants neutralize free radicals, including hydrogen peroxide, nitric oxide, and superoxide.
Plus, studies show rose hips can also help you lose weight—and keep it off. (Unlike over-hyped, synthetic, "weight-loss supplements.")
And most recently, researchers have also begun to recognize its potential to help ease the pain of arthritis…
Rose hips extract demonstrates "significant" pain reduction
In a 2009 meta-analysis, researchers looked at three previously published clinical trials involving nearly 300 patients diagnosed with osteoarthritis (OA). In all three studies, the participants either took 5 grams of rose hip powder or a placebo each day for three to four months. (That amount is essentially a food quantity…and is what you might get by drinking an infusion made with fresh rose hips.)
It turns out, in all three studies, those who took the rose hip powder experienced a significant reduction in pain. In fact, they were twice as likely to report improved pain levels as those who took the placebo!
In a larger and more recent meta-analysis, researchers reviewed 15 previously published clinical trials involving more than 1,500 patients with OA. Again, in these studies, people with OA who took rose hips experienced improvements in pain and stiffness. In addition, the participants did not experience any side effects. (This excellent report  stands in sharp contrast to the dangerous prescription drugs doled out to deal with arthritis pain.)
In a third study, my friend Jorge Gruenwald and his colleagues in Germany looked into the berries' "mechanism of action." In other words, they studied exactly how the berries seems to alleviate pain. (Nearly 20 years ago, I worked with Dr. Gruenwald when he published his findings that the botanical extract kava kava does not cause liver problems in my scientific journal Seminars in Integrative Medicine. Still, it took years to finally put the medical myths about kava kava to rest.)
According to Dr. Gruenwald's research, rose hips seem to work by inhibiting pro-inflammatory compounds in the body. Which makes a lot of sense. Because, as I always discuss, inflammation is the root cause of OA (and a whole host of other chronic diseases). Meaning, the key to preventing and reversing OA is to tame the inflammation. Only then can the body can repair the joints with normal cartilage.
So, this weekend, I suggest you go out on an autumn walk through the woods to gather some wild rose hips from the bare rose bushes. (Yes, the roses of summer are now a memory. But remember, rose hips will stay on the stems through the winter and until spring.)
You can use the berries you gather to make a healing tea, as I described in the February 2020 issue of my monthly Insiders' Cures newsletter ("The Valentine's Day secret that could help you live to 100—and beyond"). You can also take the simpler route by purchasing a water-soluble, dried, powdered extract that contains 5 grams of rose hips (the amount used in the study). You can add it to water (or other beverages), together with other ingredients.
Sources:
"Rosa canina – Rose hip pharmacological ingredients and molecular mechanics counteracting osteoarthritis – A systematic review." Phytomedicine, July 2019:60; 152958. doi.org/10.1016/j.phymed.2019.152958.
"Does the hip powder of Rosa canina (rosehip) reduce pain in osteoarthritis patients? – a meta-analysis of randomized controlled trials." Osteoarthritis and Cartilage, 2009. 16(9): 965-972. https://doi.org/10.1016/j.joca.2008.03.001
"Rosa canina fruit (rosehip) for osteoarthritis: a Cochrane review." Osteoarthritis and Cartilage, 2018; 26(1): S344. doi.org/10.1016/j.joca.2018.02.685